Anand Balwadi
Kindergarten
The pre-school program of Anand Balwadi was established for the "tiny tots" in the age group of 2.5 to 5.5 years.
Prior to admission in Nursery, children join the playgroup activity with their mothers for two months. In these 2 months, the mother & the child get acquainted with the school environment and the teacher. They also become aware about the curriculum of Anand Balwadi and its teaching methodology. Due to play group, the weaning period for both-the mother and the child become pleasurable.
The pre-school program is for 3 years- Nursery, Junior kg & Senior kg.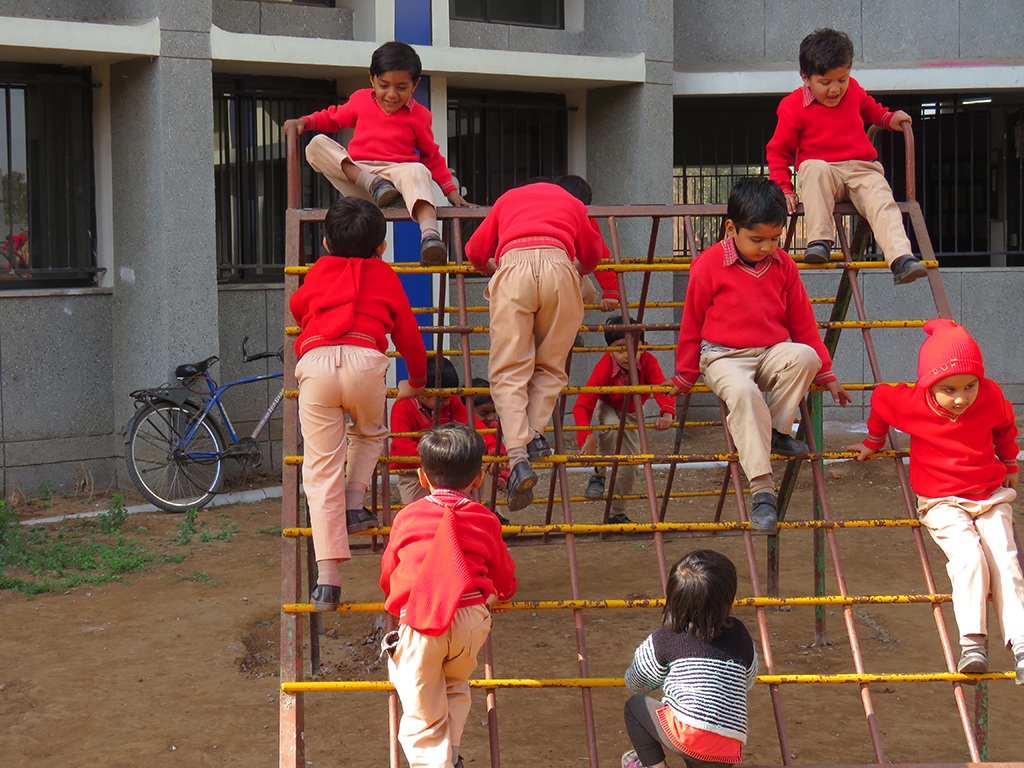 Objectives of Anand Balwadi
To make children confident in their life.
To inculcate moral values in the children.
To develop self-esteem in children.
To make children independent in daily living skills.
To foster creativity, care & education.
To provide an encouraging & nurturing environment.
To provide a child friendly, safe, secure & stimulating environment.
To develop enthusiasm in children towards learning.
The program is designed to bring about the "All round development" in the child in a free and secured environment. Anand Balwadi follows play way method, activity & project based method. The curriculum framework includes.
Physical Development (motor)
Gross motor & Fine motor
Language Development
Receptive language & Expressive language
Cognitive Development
Sensory Stimulation & Pre-readiness concepts including pre-reading, pre-writing, pre- arithmetic & reasoning & thinking skills.
Social development
Emotional development
Practical skill development
Creative & analytical thinking
Our unique features
Use teaching aids, puppets, flashcards, drama, storytelling etc.
Audio visual stimulation using digital technique.
Use of musical instruments.
Ongoing teachers' enrichment program.
Parents meetings.
Different experts' talks are arranged for the mothers e.g. the Pediatrician, Dietician, Dentist
and the child development expert wherein the mother can have interaction regarding her child's development,
behavioral problems, eating habits, etc.
Parents training program.
In Anand Balwadi the child comes without a bag. It is totally a burden free education. Anand Balwadi runs for five days a week. Children have weekend holidays
Contact
Pragnan Tirth
Sarvangi Shikshan Sansthan,
Old Mogri-Anand Road,
Mogri – 388345
Dist: Anand, Gujarat, India
Phone: (+91) 2692 263081/82
Email: [email protected]
Nursery, Jr. Kg., Sr. Kg.

Fees Breakup for Year 2023-24

Fee Details:

1 Month : 1,340/-Rs.
3 Months : 4,020/- Rs.
6 Months : 8,040/- Rs.
12 Months : 16,080/- Rs.

Breakfast Fee:

6 Months : 1,450/- Rs.
12 Months : 2,900/- Rs.

---