Gnanyagna Vidyalaya
Primary and Secondary Education
Gnanyagna Vidyalaya works with the goal of offering quality education alongside the values and virtues of Indian culture to bring all-round development of the child. The primary school comprises of Standard 1 to 8 and is duly recognised by the Director of Primary Education Department. While it follows the prescribed government curriculum, the school strives hard to incorporate many other activities to bring about the all-round development of the children.
The Secondary and Higher Secondary School is from 9th to 10th and 11th and 12th standard (General stream) respectively. The school is duly recognised and follows the curriculum designed by the Secondary and Higher Secondary School Education Board (GSEB) Gandhinagar.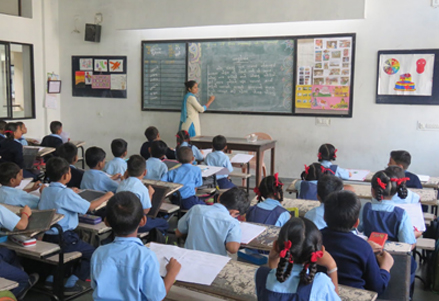 Facilities
The school has a well-equipped Computer Laboratory with latest computers and software. Computer systems are adequately configured and powered with the latest technology.
The School has well equipped Science laboratories for Physics, Chemistry and Biology with latest scientific equipment.
The school has a well stocked and furnished library with approximately 10,000 books and a spacious reading hall facility. The library is kept updated with Dictionaries, Newspapers, Magazines, Encyclopaedias, biographies of successful people, maps, charts, reference materials of academic subjects and much more.
The Projector room facility is availed to students to provide for an improved learning experience using digital mediums.
Unique Features
The medium of instruction is Gujarati but English as a second language is mandatory from the 1st standard.
All children are introduced to art class, classical music and dance classes by well-qualified instructors.
All major festivals, regardless of religion, are celebrated at the school.
Students actively participate in various state and national level competitions in areas such as: drawing, writing, debate,
elocution and various sports.
We help school children to become stable, well-rounded and morally integrated personalities by providing moral education alongside
other subjects which is one of the salient features of the school.
The school has both boys and girls NCC troops. Every year, 50 boys and 50 girls are recruited in the NCC troops. The students are encouraged and guided to join RDC camp in Delhi. Every year Independence Day and Republic day celebrations are held in the school to inculcate patriotic feelings among students.
Pragnan Tirth
Sarvangi Shikshan Sansthan,
Old Mogri-Anand Road,
Mogri – 388345
Dist: Anand, Gujarat, India
Phone: (+91) 2692 238120, 263081/82
Email: gvmogri@gmail.com
Fees Breakup for Year 2023-24

Fee Details:

1 Month : 1,600/-Rs.
3 Months : 4,800/- Rs.
6 Months : 9,600/- Rs.
12 Months : 19,200/- Rs.

Breakfast Fee: (For Std. 1 to 5)

6 Months : 1,550/- Rs.
12 Months : 3,100/- Rs.

---

Fees Breakup for Year 2023-24

Fee Details:

1 Month : 1,880/-Rs.
3 Months : 5,640/- Rs.
6 Months : 11,280/- Rs.
12 Months : 22,560/- Rs.

---

Fees Breakup for Year 2023-24

Fee Details:

1 Month : 2,370/-Rs.
3 Months : 7,110/- Rs.
6 Months : 14,220/- Rs.
12 Months : 28,440/- Rs.

NOTE: Fees are payable at School Office only.

---